In 2009 McFarland & Company Inc. published Bela Lugosi and Boris Karloff: The Expanded Story of a Haunting Collaboration.  You may have a copy on your book shelf of my 372-page book Karloff and Lugosi: The Story of a Haunting Collaboration.  In the 19 years since the publication of this 1990 tome, I learned so many additional fascinating facts, spoke to so many more primary sources, had access to so many never-before-seen photos - many of them casual candids - and grew so much in my admiration for both of these gentlemen that I had to expand the book to the current 701-page opus! 

Reviews:

"The Mank book, which he calls an "obsession" since his first interviews with Lugosi's ex-wife in 1974, is meticulously researched and more than 300 pages longer than the original. It grandly paints a portrait of the two stars and the spooky past of Universal, Hollywood's top scare studio of the 1930s and 1940s."--USA Today http://www.usatoday.com/life/books/reviews/2009-10-29-vampirefilms_st_N.htm
In 2007 Feral House published Hollywood's Hellfire Club recounting the exploits of the members of Hollywood's "Bundy Drive Boys" - John Decker, John Barrymore, W.C. Fields, Errol Flynn, Ben Hecht, Thomas Mitchell, John Carradine, Gene Fowler, and the rest of the group of Hollywood reprobates who womanized, boozed, and engaged in all manner of self-destructive behavior - despite having a collective genius rarely equalled in the history of the world.  It was a fascinating saga to research and write and one I trust you would enjoy reading.

Reviews:

"This well researched, breezily written history of the seamy side of golden age Hollywood focuses on a cadre of actors, artists, and writers whose friendship revolved around the Bundy Drive home of painter (and gleeful art forger) John Decker. These men lived fast lives of booze and bad behavior, self-destructive passions and self-defeating whims and addictions....All in all, this is a slightly trashy, thoroughly delightful historical work. Highly recommended for all collections."  --Library Journal  http://www.libraryjournal.com/article/CA6504464.html?q=hollywood%27s+hellfire+club
"Author Gregory William Mank looks back on Tinsel Town's less-than glamorous underbelly…an account that's swift, humorously compelling and respectful...Mank's streamlined history percolates with wanton passions – his recreations of both the rumored and the actual disinterment of Mr. Barrymore's corpse, Fields' bizarre skirmishes with Charlie McCarthy, and Decker's art forgeries are vividly rendered and jaw-droppingly funny…By the end, you may be inspired to raise a glass to their memory."   --Flickhead  http://home.comcast.net/~flickhead/Hollywood'sHellfireClub.html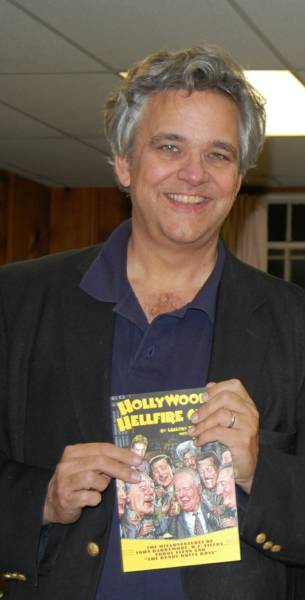 In January 2013 BearManor Media published the MagicImage book, The Invisible Man.  Yes, MagicImage is back in business, with a vengeance, and this book features the original shooting script, an interview with Claude Rains' daughter Jessica, my production history, a chapter by Randall D. Larson on the film's musical score, and a reproduction of the pressbook.  BearManor Media, which now produces the MagicImage line, has given the book a very handsome treatment. There are many photos, including some very rare ones. The book is well-timed, following the beautiful restoration of The Invisible Man as part of Universal Studios' 100th anniversary.

197 pages, color front and back covers.

Contact: Greg@gregorymank.com

In June, 2014, McFarland & Company Inc. published The Very Witching Time of Night: Dark Alleys of Classic Horror Cinema, a fascinating brew of vintage horror lore.  Thirteen chapters of diverse horror movie sagas that run the gamut from an intimate look at the pitifully sad life of Helen Chandler, leading lady of the 1931 Dracula to a tribute to Junior Laemmle, Universal's enigmatic "Crown Prince" producer from 1929 to 1936.  You will learn fascinating tidbits about  "Mad Jack" Barrymore, Lionel "Pinky" Atwill, James Whale, Val Lewton, John Carradine, Colin Clive, Lon Chaney Jr, Shock! Theatre and, of course, Boris Karloff and Bela Lugosi!

Profusely illustrated with many rare photos.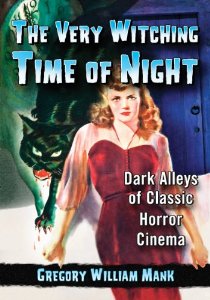 Reviews:

Mank yokes a fan boy's obsessive enthusiasm with meticulous research. And after 35 years of research and ten books, he has navigated many quirky side streets off the horror film main drag....beautiful black and white production stills throughout, Mank and McFarland's tag-teamed volume will be a winner in genre film collections. -- Library Journal

Classic Horror film lovers rejoice! Gregory William Mank has written another Must Have book to add to one's collection....A treasure trove of facts that leaves one astonished by what the author is able to uncover. -- Scarlett the Film Magazine

What unites this variety of nightmares is Mank's attention to detail, his often-lyrical writing, and the common issues many of these disparate films faced.        -- Psychobabble

Brilliant, brilliant book. -- Little Shoppe of Horrors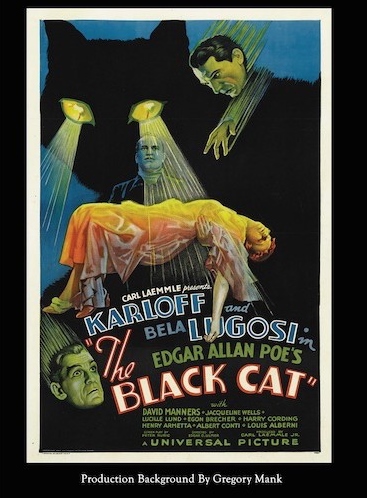 The first - and greatest - teaming of Karloff and Lugosi, The Black Cat, receives full coverage in this new MagicImage Filmbook published by BearManor Media in June 2015. My production history covers it all: the bizarre real-life influences, my interviews with cast members David Manners, Jacqueline Wells, and Lucille Lund, assistant script girl Shirley Ulmer (widow of the film's director, Edgar G. Ulmer), Arianne Ulmer Cipes (Ulmer's daughter), and even the woman who, as a child, won (with her cat Jiggs) Universal's "Black Cats Parade" contest! The volume also contains a reproduction of the film's press book, a section by Randall Larson on the musical score, and almost 100 illustrations.

.

Available in both hardcover ($29.95) and softcover ($19.95)